Albers reflects on soccer's first City League title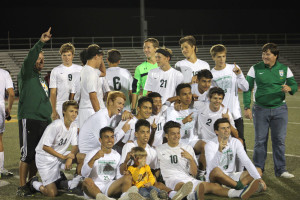 By Dylan Albers
With the incredible crowd and the intense battle of the first half and the conclusion of senior night announcements, we sat on the bench to go over our plans for the next half. We were up 2-1 on South, but we wanted to be up by much more.
The second half started out much calmer than the first. We had pulled ourselves together and played like we know we can. We possessed the ball pretty much the entire second half, and once we scored our third goal, the scoring frenzy began.
One goal right after another. Sophomore Corbyn Howard achieved the team's first hat trick of the season, three goals in one game. We got up by so much that I myself, a defender, got to play forward and almost scored in that position. We ended the game with a victory of 7-1.
Howard said, "I feel like we thought we had the game won before it started. After South netted one in we got our act together and played the game we know how, and when that happens we are unstoppable."
This game was a very significant game due to the fact that it ensured us the city league title. The boys soccer team has never won city league outright. One year, we were co-champions with Kapaun.
"It feels amazing to not only win, but to be picked to finish fourth and go undefeated so far," said varsity coach Mike Skaggs.
This team has achieved many great things this season, and now our sights are on state.
Howard said, "My goals for us are much higher than just winning city league. Now we focus on the bigger picture, every game from now to state."