Staff Page
Advisor
Kollen Long
---
Editors
Hi! This is my second year on the Flyer staff and I am one of the Editors. With Grace  Kelly by my side, we will go to fight the controversial issues of the hallways of Bishop Carroll. I am more of a photographer and designer but I will daringly put my skills into the creative side of writing. Other  than the adventures of Bishop Carroll in the Flyer   and being a fourth year member of the Color guard team, I am also an eleven-year- member of 4-H, an avid Supernatural and Doctor Who binge watcher, and currently listening to Harry Potter and the Goblet of Fire in my car named Berta.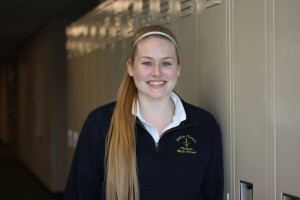 Grace Kelly 
Hey there, internet browsers! My name is Grace Kelly  and I am one of the Flyer  editors, along with Lydia  Crownover. This is my second year on the Flyer staff and  my  specialty is writing. My free time is occupied by  homework, Pom Squad practices,  Student Council  meetings, the eleven dance classes I take or one of the  three classes I  teach, or babysitting three adorable kids. I'll probably end up going  to Saint Mary's College, where you'll find me studying communications and psychology and cheering on the Notre Dame Fighting Irish. I hope you enjoy my writing and have an awesome day!
---
Photo Editors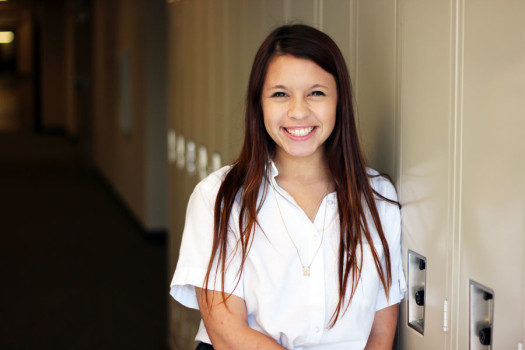 Kenzie Borland
My name is Kenzie Borland and I'm a senior this year. I am  taking the position of co photo editor this year on the Flyer and I  am looking forward to this year of producing newspapers for you!  I'm excited to hopefully bring a lot of new things to the website  this year, including videography. After Carroll, I plan on majoring in cinematography or art in education. I hope to eventually move to San Francisco and work on my art there. Until then, I will continue sharing what I love with you readers of the Flyer! God bless. Kenzie Borland.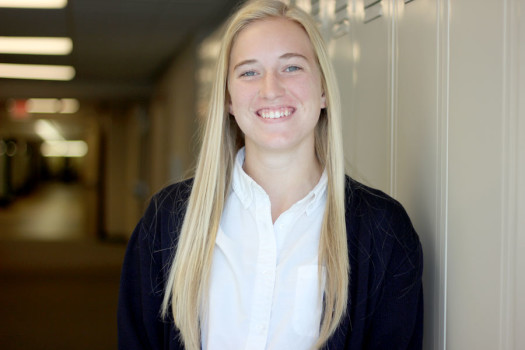 Maddi Eck
Hello! I'm Maddi Eck! I'm a senior and one of the photo editors for the Flyer. I am excited to take and edit photos for the newspaper this year. I am one of three captains of the Varsity cheer squad. I also play club volleyball, sand volleyball, and track. This year, I will participate in Mission Club, God Squad, and Breakfast Club. In my free time, I enjoy sleeping, eating, and binge watching Ghost Whisperer, Criminal Minds, and The Walking Dead. I hope you enjoy my work and the work of the Flyer staff in your 2015-2016 school newspaper issues
---
Social Media Manager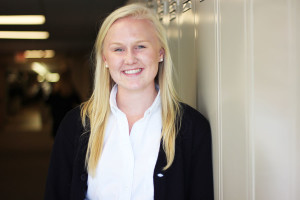 Jordan Schartz
Hello, I'm Jordan and this will be my second year on the Flyer staff. I will be running our twitter this year so follow @CarrollFlyer for school happenings. While I'm not in room 307, I enjoy doing any outdoor activity like running, kayaking, or bike riding all while listening to Taylor Swift. I am on the softball team and this is my first year on the cross country team.  Daydreaming about San Diego or Lawrence, Kansas is what gets me through the day. I hope to study abroad and become a missionary someday.  I'm so excited to be a part of the staff this year!
---
Staff
My name is Dylan Albers. I am a junior and I am a writer on the  flyer. I am involved in many school activities like varsity soccer  and executive student council and I love to overwhelm myself by  all the activities I am a part of until I don't know what to do (not  really).  I love and care for all animals and sometimes I bring home animals without my parents' permission. I someday hope to become a veterinarian to help as many animals as I can. I am planning to take over the world with my fellow world dominator, Katie Gross.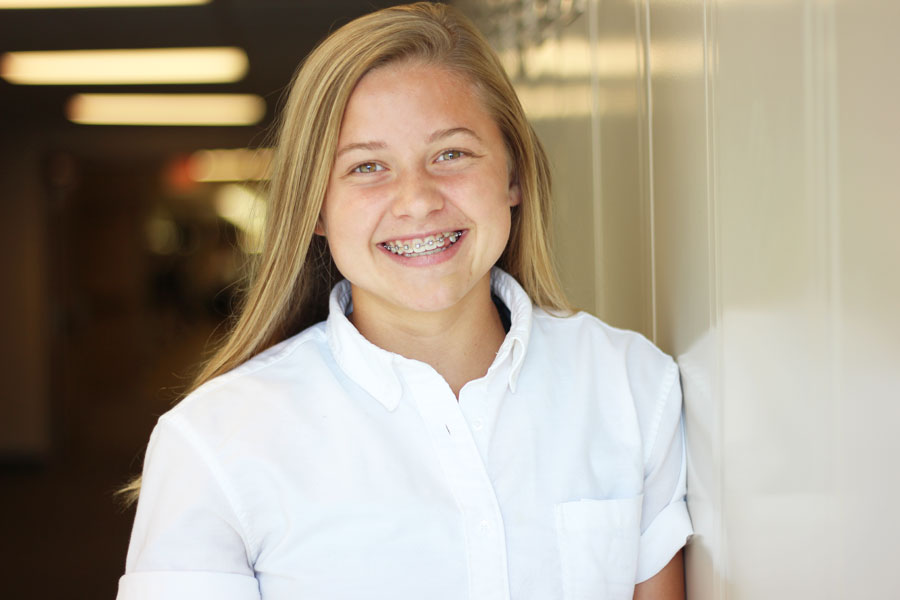 Grace Buessing 
Howdy friends, I'm Grace Buessing, all the way from Colwich, KS. You've probably heard my cackle in the hallway; if not, don't be discouraged, you'll hear it soon. I'm extremely clumsy, loud, and involved. CYO, 4-h, cross country, volleyball manager, track, catering for Syl's, CrossFit, mowing ball diamonds, listening to Shania, chauffeuring around four little rug-rats I call siblings, making snow cones in a Kona Ice truck, making family dinner, and playing Co-ed softball with a bunch of old geezers is how I spend my time. Remember to enjoy God's handiwork in the sunset, peace and blessings!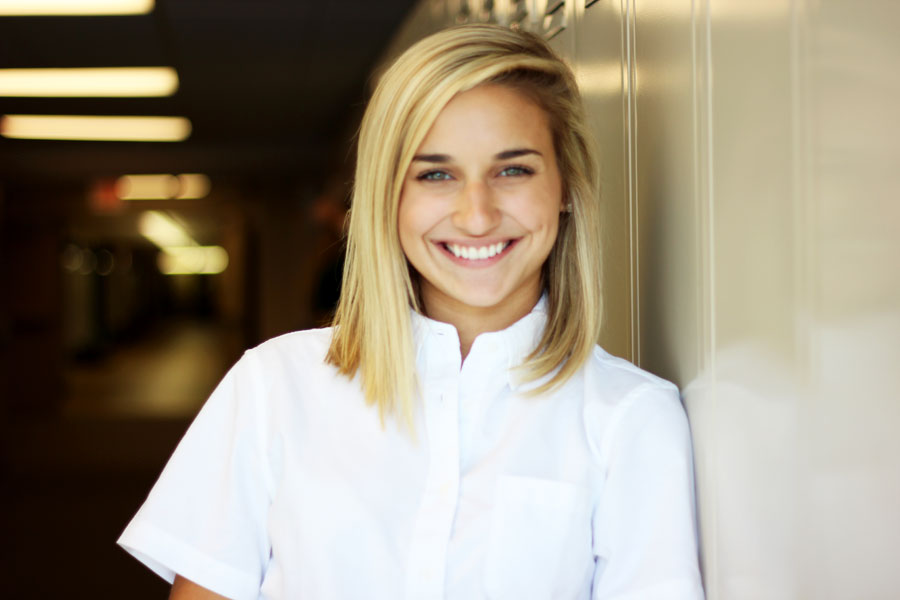 Elle Clouse
Hello! My name is Elle. This will be my second year on the Flyer, and I am more than excited to be back. I hope to provide you all with a gripping newspaper that keeps you in the loop! Not going to lie to you all though, my favorite role on the Flyer staff is comic relief. In my spare time I love to be with my friends/fam, engage in fiery political debates (Yepp, completely serious), and play with my pup, Beauregard. I hope when you see my name signed in the corner of a page on the Flyer, you know it's made with LOVE.
Hi friends my name is Drew Davis, I'm a junior here at Bishop Carroll and I'm excited for this to be my first year on Flyer. I once gave myself a bloody nose trying to open a ketchup bottle and yesterday when the Chipotle worker asked if my order was for here or to go I said "yes." Wyatt just told me I'm the demigod daughter of Aphrodite so that's good. Katie thinks I frequently get hit on at Slumberland so that's awesome too. There may or may not be a conspiracy theory involving me and the sinking of the Titanic.
Hello all my name is Emily Demel. I am a senior this year, and it is my second year on the Flyer. I greatly enjoy reading, running, riding my bike and other verbs beginning with "r" such as rafting and resting. I am involved in many activities throughout the school such as Stuco, NHS, cross country, and a personal favorite of mine: quidditch club. I am an avid Harry Potter fan. On the weekends you can often find me at Dillons working my life away, or spending much needed friend and family time. I hope you all enjoy reading my stories as much as I love writing them!
Hello BC Flyer page users! My name is Mary Ebberwein, Mary Mac, May May, Lil' Bean, Trail Mix, or Ebberweeny. If peeing your pants was an Olympic game, I would be a multi-gold medalist. If you could measure my sneeze, it would be taller than me because of its surprisingly loud nature (which isn't saying much because I'm only 5 feet tall and 0 inches.) My spirit animal is a perky prairie dog. And finally, I love, apple tacos, running through golden pastures, and my faith. I hope you have a zestier day than the lemon pepper in my cabinet!
Hey! The name's Raeley Goebel, and my job for the Flyer will probably focus on writing. I am very excited and I hope to bring the voices of more underclassmen into the spotlight this year. Hmm, a little about me… Some of my favorite things are Totus Tuus camp, the color turquoise, spending time with my friends, and watching documentaries/reading the newspaper (seriously). My favorite movie is Unbroken, I LOVE Chinese food, I have a ridiculous fear of spiders, and my spirit animal would probably be an owl.
Congratulations! I've just been introduced to you in 99 words.
Hi, my name is Katie Gross. I'm a junior and this is my first year on Flyer. Here is some uninteresting stuff about me. I enjoy black coffee. I watch an average of 17 hours of Netflix a week. My favorite movies include the Devil Wears Prada, Ferris Bueller's Day Off and Legally Blonde. It's breakfast time all the time. My plans for the future include world domination and lowering the price of Figi water. Ron Swanson is my personal icon and hero. My hobbies include Solitaire and rearranging the shelves at Target.
Wyatt Iseman is the most UNinteresting man alive.
My name is Jacy Holbrook. I'm a junior and this is my second year being a member of the Flyer staff as a writer. In addition to this, I'm also a service officer on Student Council and a member of the Pom Squad. Michael Scott is my hero and I aspire to be like him. I also enjoy reading, sushi, the beach, Harry Potter, candles, stationary, and pizza rolls. I hope you all enjoy my work this year!
Hello! My name is Suzanne Howey and I'm one of the two sophomores on your Bishop Carroll Flyer Staff. I'm supposed to describe myself in 100 words, and that won't be too hard because I'm a pretty simple person. I love Udon noodles, cantaloupe and dark chocolate. I am freakishly obsessed with eyebrows. I like to listen to the radio (not country), but I somehow can't name a song to save my life. I run cross country and track (slowest hurdler in the history of track) and in my spare time I print t-shirts or watch Netflix. Aaaaaannd that's all.
Bienvenidos! My name is Wyatt Iseman and I am a Junior here at Bishop Carroll. I am so excited to be a part of the Flyer Staff as a photographer this year! Here are some facts about me and my completely average life: I climbed Mount Everest in a record 3.14159273 minutes at the age of 8. I have been a raging magician and escape artist since the age of 10 (self-taught. I am the last living native pirate speaker, a cricket world champion, and the long lost brother of Hermione Granger. The shark in the movie Jaws is based off of me. I can fly. I hypnotized my entire 5th grade class to email anon hate letters to Kenzie Borland. I am a freelance Arctic water scuba diver and have only gotten hypothermia 12 times. In short, I am the most interesting man alive. El Fin.
My name is Nathan Lies, I am a junior. Some of my interests include archery, knife throwing, gardening, rosary making, photography, and model making. I am an involved student at Carroll and I participate in: Scholars Bowl, Science Olympiad, Frassati Society, and Archery Club. I live in my van, it is very classy. The windows don't open, but whatever. I built the first hover car, in 1998, while in the womb. For lunch, I typically have four large pizzas. I also happen to be over 8 feet tall. I am a Jedi, and my ancestor is Altair, which means that I can't die, as long as I land in a hay stack.
My name is Clare Morgan and I am a junior. I love to read, sing, dance, draw, and crochet. I am involved in choir, drama, CYM, Handmaids of Mary, I am a varsity bowler, and I am the head of Liturgy Club. I don't have a driver's license because I am an avid teleporter. I am very excited to be on the flyer staff this year, and I hope to provide you with accurate and true to life stories. Side note: Wyatt Iseman's bio is the only accurate one on this page. God bless and have an amazingly lovely day!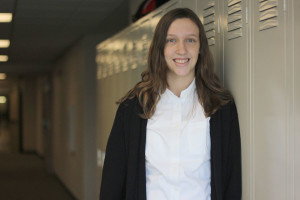 Monica Martin
Hi! My name is Monica Martin and I am a junior. This is my first year on The Flyer staff and I am very excited. I enjoy reading, watching tv, especially Agents of S.H.I.E.L.D. and Agent Carter, and taking care of my pets. I also love to play tennis with my family and spend time outside. I am a member of Handmaids of Mary and Liturgy Club. My favorite sports teams are the Shockers, the Chiefs and the Royals. I hope you have a great year!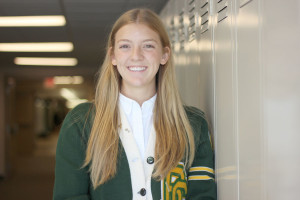 Kaylor Nordhus
Hello human of Carroll. I go by Kaylor or Kay, in personal cases; and I'm a senior (que the holler.) It is my second year on Flyer, and BOY I'm excited. What I would force you to know about me: I love writing, very much. I'm pretty much like Taylor Swift except instead of putting my stories through songs, I vent through writing. Shout out to my girl Tay. My hobbies include cross country, Exec StuCo, Jesus, tandem-biking, (with Kylee Mernagh) alternative music, track, and singing in the shower, professionally. My ambition is to someday design my own fashion brand. My fears include being in Walmart for more than 15 minutes, (sorry mainstream America, I'm blunt) and meeting Ralph Lauren. Be bold, be humble, be faithful, let's make this a great year!
Hey friends, I'm Morgan Werth and this is my second year on the Flyer staff! For my 17th birthday I received a pair of Birkenstocks which I team up very often with a flannel for the ultimate dynamic duo of my closet. I drive a super cute white Pontiac named Penelope and in the center console you can find gold (aka every Taylor Swift CD). I hope you enjoyed the bit of my life you read. I look forward to bringing you news about Bishop Carroll and all that makes the community what it is.
Stay commited, be humble, laugh often, love generously, and have a great year!