Taylor Swift's new album 'Midnights' earns high grades from students
'I think it's gonna be on repeat on my playlist for a while!'
Journalism and PhotoJ students shared their immediate reactions to Swift's new album.
LABYRINTH
Honestly, we thought it was a good song but nothing too special. It was good but we kept waiting for a beat drop of something else to happen. I could see it being played in a movie for sure though. Overall, we liked it but we would only give it a B+. Not disappointed in Taylor but not in love with it. I'm excited to listen to the rest of the album. Landry Steven and Autumn Trail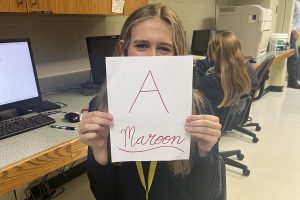 MAROON
I rate this song, Maroon, an A because of the words and story she tells through this song. The detail she explains about the meaning behind the color maroon is apparent. This song reminds me of her song, Red, because maroon is a different shade of red. It makes me wonder if there is any connection to the two or if these shades of color are just important to her. I could be totally wrong, but this is just what my mind took me to. This song reminds me of fall, and how ironic that it was dropped in fall. I would listen to this song again. A Olivia Nicoli
SNOW ON THE BEACH
The song I listened to was Snow On The Beach. I like this one. It's a slow and soft toon song. I like how she featured Lana Del Ray in the song. I also like the theme because it's about how everything about ourselves is beautiful even if we can't see it. And if something seems impossible, it's not if you believe. A- Aubrey Dinh
BEJEWELED
This song was pretty good. I liked how there was like a sparkle sound throughout most of the song; it gave it the "jewel" effect from the title. I also really liked the beat and bass that were in the song because it makes it even more catchy. I also enjoyed how the song was upbeat and pretty fast paced. I think I would rate this song as an A-. Alyssa Atkinson
ANTI HERO
She is talking about how she is the problem of everything and the song is a depressing upbeat tune. She makes a lot of references to random things. She said a "a tale as old as time," which is a reference to Beauty and the Beast. I think she is referring to herself as the beast because she hates looking in the mirror. She also says "pierced through the heart," which could be referring to when Simon in the bible says to Mary that a sword will pierce her soul which is the heart of a Human Person. Overall, I liked the song better and it had more to it than the first one (Maroon) I listened to so I am giving this one an A-. Logan Mitchell
LAVENDER HAZE
Lavender Haze has a very good melody. I like how the verses and the course complement each other. The beat drops are a good through to the verses going into the course. I rate this song a 8/10 because the beginning was a little slow. I didn't like the meaning of the song saying that it's about another guy. I like the creativity with how they used the "oohhh" as part of the beat in the course. Marissa Seiwert
QUESTION?
Question by Taylor Swift is a deep personal song. The title suits the song and it's not bad but it's kind of bland. Most of the lyrics are questions, which I think is clever, since the song's name is question. Taylor Swift is known for her intense love songs and this definitely is one. I like the lyric "It's just a question." Overall, I would say it's a pretty well put together song. The beat matches the lyrics as well, and it goes well with the flow of the song. I would give Question a A- Darby Howard
MIDNIGHT RAIN
I like this song. It has a good beat and lyrics. I like how her voice gets really deep from the autotune. That sounds cool. I think I would listen to this, but it wouldn't be my first choice. Overall, this song is pretty good, I would recommend it to others. B Hayden Hiebert
YOU'RE ON YOUR OWN, KID
Taylor Swift always puts her most vulnerable/emotional songs 5th in the album. In her new album,
"Midnights," "You're On Your Own, Kid" is the 5th track. Now, it may not seem all that emotional or
vulnerable, in fact, it appears light and upbeat but in truth, the song is all about her going through
critical moments in her younger self's life and almost giving her advice. Even though this song is very
sad, it isn't like her past 5th track songs. This one has a note of help through the self-reflection,
something tells us that everything is going to work out in the end. All in all, it's a beautifully written song that many people could relate to and maybe draw some hope from it they didn't have before. Megan May
This song sounds a lot more like a breakup or "revelation" type of song. It sounds like Taylor is either singing about herself in third person or trying to speak to the audience in a more personal way. I think the message was portrayed very effectively, talking about how you're on your own and always have been. The song also talks about how you should always live in your moments and to not be afraid of getting hurt. Personally, I would rate this song a B+. Gabrielle Walker
KARMA
I like the melody of this song. I will be adding this song to my playlist! This song is perfect for teen girls. It's like Taylor's old songs. This is a good song to listen to if you just wanna get hype. After listening to it only once I think it's gonna be on repeat on my playlist for a while! A+ Isabella Martinez
SWEET NOTHING
I really like how during the chorus, she has the same note for all of the words except for "my" and "tiny," which are a bit higher, and "last July," which are a bit lower. The way she sings the "Ooh, ooh," before "They said the end is coming," is really pretty. Letter grade rating: A Danyela Holverson
MASTERMIND
I really like this song because it reminds me of her last album "Evermore," and that album is one of my favorites from her. My favorite lyrics from this song are "If you fail to plan, you plan to fail" because it is relatable and flows well with the other lyrics. This song has a slower tempo, which I like, and I really enjoy the theme too. I would give 'Mastermind' an A+. Gabrielle Robben