Q & A with offensive coordinator Dusty Trail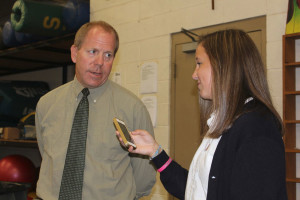 Photo journalism students Ava Mikesell and Jesi Richenberger discussed the loss and tonight's game against East, including the challenge of facing East's 6-foot-5, 255-pound Xavier Kelly, with Bishop Carroll offensive coordinator Dusty Trail.
What were your thoughts about last week's game?
"Most people would see it as a negative because we lost, but I see it as a positive because it's gonna help us in the future. The guys are going to learn a lot, not only about what it takes physically to compete at a higher level but what it takes mentally and in preparation for a big game like that."
What is one of East's strengths?
"Very athletic, fast and fly around. We are going to have to improve off of last week's game, learn to play at a fast pace and keep up with them."
What did you do to improve after last week's game?
"Cleaning up mental mistakes, begin to play faster, correcting basic athletic principals, learning to play faster and with better body position and that is what we really worked on this past week."
Who is a player to watch on East's team?
"Big defensive end and also plays tight end and his last name is Kelly, big Division 1 recruiting prospect and he just committed to Clemson. (He is) No. 22, biggest and most athletic guy on the team, you will see him flying around quite a bit."
What are your thoughts on how tonight's game will go against East?
"I think you will see improvement out of us, guys been working hard, you'll see improvements on both sides of the ball, but offensively and defensively, work on playing faster, hopefully our execution will be better and because of that we will come out with a win."