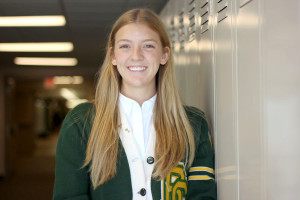 By Kaylor Nordhus, staff writer/designer
So here we are, seniors. Sitting in the middle of class. Another school day, another school year that could pass us by because of its sheer monotony. Classes, teachers, papers and projects. Day in and day out.
But why? Why should we allow our school days to fall into God-forbidden dullness and repetition? Why should we let the excitement and prestige of being seniors slip into tedium and reverberation? It's our SENIOR YEAR for goodness sake, and because you only get one of these in your life, you must wake up, you must take hold of it. WAKE UP! Look around you! There's so many opportunities to make this year truly count, to live out who you're called to be, to reach your potential at Bishop Carroll.
Start that conversation with your classmate sitting next to you in English. Volunteer to lead that club. Use seniority in any and all circumstances. It's not about being sick of schedules and school, nor being fed up with everyone. This year isn't about using senioritis as an excuse.
Truly get to know your teachers and your fellow classmen! After graduation, you won't see 90 percent of your fellow senior classmates until the class reunions—and who know who will show up to those. May as well get to know as much about your classmates as you can, and who knows? You may establish a friendship this year that may last even after high school.
It's time to step up now, step out, be a leader, take charge of your senior year; make the little moments count. Be a try-hard, go all out. Do something outside of your comfort zone, be a little crazy.
Seniors I challenge you, as well as myself, to strive to reach your potential this year, make a solid footprint, on Bishop Carroll. After all, hasn't Carroll made a footprint on you? The timer starts now, for we have only 9 shorts months until the caps fly.