BC close to adding girls wrestling program
10 girls attend first meeting for possible new sport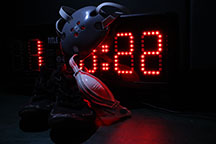 By Isaac Faber & Vince Iseman, Journalism
Bishop Carroll assistant coach Ron Russell said that the school is close to officially adding a girls wrestling team to its list of sports programs.
In 2019, Kansas held state wrestling championships for girls for the first time, becoming just the 15th state to do so. Bishop Carroll recently had a meeting to discuss possible interest in a team; 10 girls showed up, which was more than the coaches expected.
Ron Russell, an assistant boys wrestling coach at Bishop Carroll, said, "We were pleasantly surprised. We were expecting four girls to show up and we doubled that."
Russell coached boys and girls wrestling at Wichita Northwest before moving to Bishop Carroll. He says a big reason he likes girls wrestling is because of the scholarship opportunities for female athletes.
"I've been coaching wrestling for 30 years," he said. "I've never seen so many coaches looking to give away scholarships. We're talking full-rides."
Russell said BC should have a core of good wrestlers for its historic first season.
"We've got some good girl wrestlers here at Bishop Carroll," Russell said. "It will be exciting."