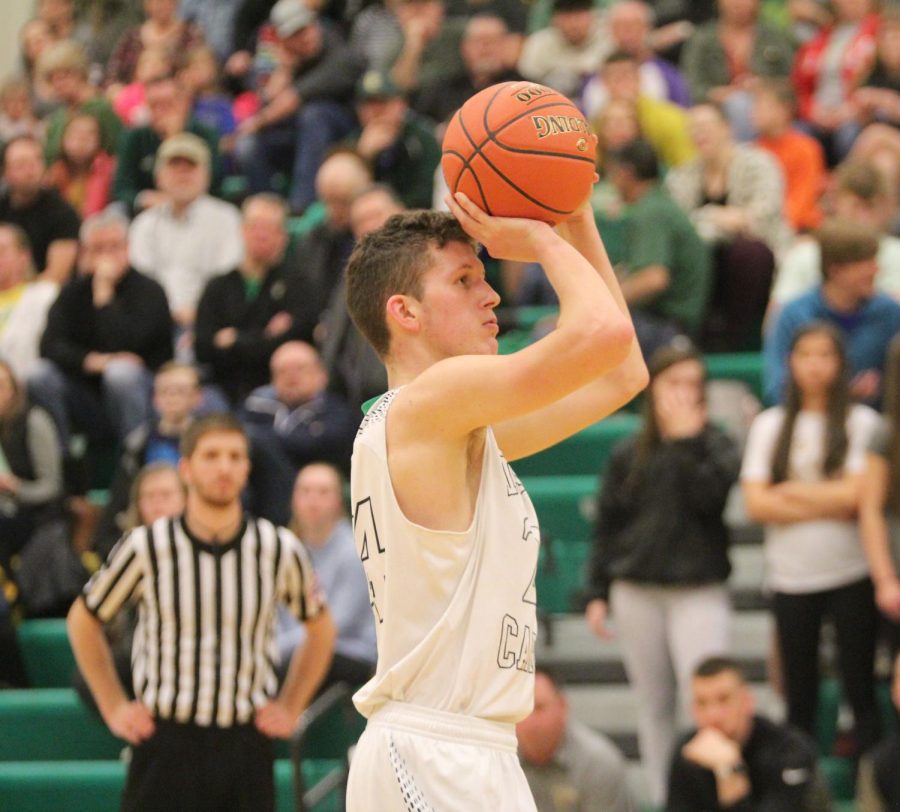 The Golden Eagles, led by veteran head coach Mike Domnick, are heading into the 2020 regular season after a tumultuous offseason full of inconsistency and uncertainty due to the Covid-19 pandemic. When asked about how the team has dealt with Covid, senior guard Carter Reid said, "It's been rough with Covid, but Coach Dom and all of us guys are encouraging each other to make the most of it. Gotta go out there and play like it's our last, cause it might just be that. If we defend, take charges, get deflections, and the offense takes care of itself, we will be just fine this season."
In order for the Golden Eagles to have a long and successful run this season, they must constantly hold themselves accountable in regards to not putting themselves in an unfavorable position in regards to potentially contracting the virus. This has been a consistent message laid down by Coach Domnick.
Enrique Lankford said, "He has just told us to be smart outside of the gym. He tells us not to go anywhere that could put us at a higher risk, like big crowds, especially during the holidays. We have adjusted to this just like we would any other adversity. We all want to be able to play so we are being smart off the court but have also continued to work hard just like Covid wasn't here. Our work ethic hasn't changed."
This year's Golden Eagles without a doubt still have a sour taste in their mouth after a heartbreaking playoff loss to Andover Central last season. Expect this year's team to be that much hungrier following the demoralizing end to last year's historic season, when the team won the first boys basketball City-League Championship in school history.
This year's senior class is headed by the trio of Carter Reid, Alex Littlejohn and Enrique Lankford. They are going to have their work cut out for them in replacing the leadership of last year's senior class headed by the likes of guards Tanner Mans and Brenyn St. Vrain. This is something that is extremely important to Reid, who stated, "Starting during the summer, going into this year I knew I had to be not just a leader, but one of the quintessential leaders of the team and I am just that. This summer all the way till tryouts, I got guys, especially the younger ones, in the gym and playing cause ultimately the team is in their hands after this year. So showing them the ropes and leading them has been huge for us as a whole."
Adrian's Thoughts:
This year's Golden Eagles are loaded with a balance of experienced leadership and young talented underclassmen coming off the bench. The new players coming in are the players coming straight off the undefeated JV team from last year. Expect for there to be a large number of rising stars that will begin to separate themselves this season.
The Golden Eagles will be beginning their season tonight on the road against the South Titans. It will be very important for the Golden Eagles to start out fast and get some momentum on their side early on in the season, then they will be able to carry the aforementioned momentum all the way through the season, similar to the way that it transpired for this group last season.
Golden Eagle quotes:
Senior Preston Rottinghaus on what Coach Dominick's main message has been while they have been preparing for this season:
"Every day, Coach Dom says that we are the best team in 5A and I believe it, our team is killer from beyond the arch with Enrique and Carter and Alex who can take anyone inside and out, but our group mentality is to play to the best that we can."
Carter on how he has prepared for his senior season:
"I've always been a great player, but I had a huge summer this season. All my high school career I hear Enrique and Alex, and, yes I give them credit but I'm just as good as them or better. I've proved that in practice. Leader has to bring the most energy, and work the hardest, and I've proven to do just that and more. Goes more than just on the court it's helping the younger guys, mentoring them, getting them prepared for what's to come for basketball and high school."
Carter on what it's gonna take for his team to have success through this week and beyond:
"Playing as a team is the key factor for us this year. Alex, Enrique, and I are arguably some of the best players in the state. Any one of us can score a lot of points on any given night, but when we work together and get everyone involved, I don't see a team stopping us."