'The pandemic has taught us to be resilient'
Staffers discuss what it's like to return to school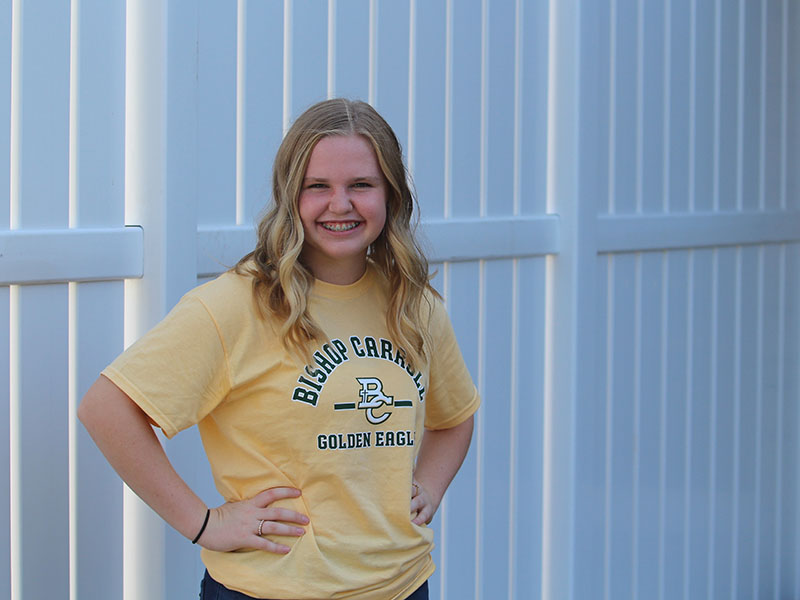 Grace Long: This Coronavirus pandemic has taught us to be resilient. I think we have all learned that we shouldn't take anything for granted and appreciate school more. It's so nice seeing everyone's faces again, even if half of it is covered by a mask! Carroll kids are taking this opportunity to grow as people.
Sarah Maschino: The flexibility exemplified by everyone in the Bishop Carroll community has amazed me this year. When my classmates have been confused about due dates, the teachers gave them more time. When teachers have struggled, we students have done our best. Even last year, when I had technology problems and got due dates mixed up, my teachers were immensely helpful when they were challenged, too. What makes Bishop Carroll so unique and so resilient is the community and caring for each other when times are tough. I really appreciate the effort our school has put in to make in-person learning a reality this year. I believe that when life returns to normal, the Bishop Carroll community will come out stronger and closer-knit than ever before.
Peter Burns: I really feel bad for the freshman and the seniors this year. The freshman might not even meet half their grade with the new schedule, and the seniors might get even less things than last years class. No lockers can be a real pain since we have to carry all the books we need and anything else that we might need for after school with sports and activities. With all the precautions though hopefully we will return to normal life soon and the staff and students will be able to agree on what to do and a safe and organized way to do it.
Lexi Hays: Back when quarantine first started, I didn't know if we would ever get to go back to school so I am extremely grateful that we are. However, it doesn't change the fact that this year is unalike any year before. The whole atmosphere in the school is drastically different than it was in the past. The hallways are way quieter, students get to class way before the bell rings, and everyone has the same emotionless face covered up by a mask. It is really sad to see because all of the fun aspects of school seem to be gone.