BC basketball keeps rolling in Hoops Holy War
Coach Dom: "We have a lot of kids dialed in."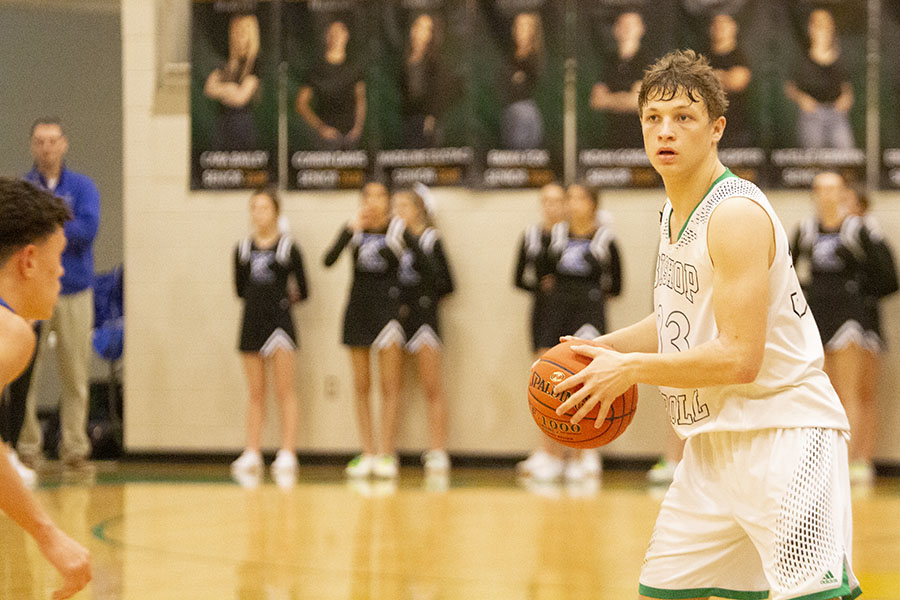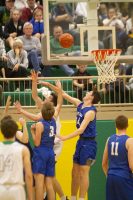 Bishop Carroll boys vs Kapaun Recap
BC 66, KMC 55: Overview
The Golden Eagles were able to come away victorious against the talented Kapaun Crusaders in front of a packed crowd on Friday night in the Activities Complex. Enrique Lankford was the main contributor for the Golden Eagles while putting up a total of 19 points on the night. Lankford has scored in double digits in two of the team's last three games. He has seemed to find his role with this Golden Eagle squad. When asked what the biggest factor was for his recent success, Lankford stated, "I wouldn't say it was my breakout game, but I do think being more and more aggressive each game has helped me find my rhythm." Carroll star guard Tanner Mans also chimed in and said, "Anyone in our first six guys can put up 20 any given night; we just expect someone to do it. I'm glad it was Enrique Friday though. Dude's been working his butt off." Another leading factor for the Golden Eagles coming out of the Nest victorious was the hardnosed style of play that the Golden Eagles played throughout the course of the night. This was especially evident in regards to the play of Carroll guard Brenyn St. Vrain, who was often seen diving after loose balls and making scrappy defensive plays. When asked about what the deciding factor was in his team coming out on top, Mans stated, "The deciding factor was that we finished strong and we didn't let up." The Golden Eagles took home a win with a final score of 65-55.
Continued Offensive success for the Golden Eagles
The Golden Eagles were able to continue their offensive success, putting up a total of 65 points on the night. In addition to Lankford's team-leading 19 points, the team unsurprisingly received hefty contributions from Mans and forward Alex Littlejohn. Littlejohn was able to inflict his will in the paint, ending the night with 10 total points. Mans looked like a star going up against the Crusader defense, putting up a total of 13 points on the night. When asked about what has been the biggest factor in his continued success on the stat sheet, Littlejohn stated, "The main thing is our team moves the ball so well that we all get a really good opportunity to score. So I would definitely say that my teammates getting me the ball and creating looks for me has been the biggest contributor."
Kapaun Crusaders
The Kapaun Crusaders were not able to slow down the Golden Eagles. According to Crusader star forward Blake Danitschek, the aggressive style of Defense the Golden Eagles played with was what threw the Crusaders off early. "Early in the game, the ball pressure and switches off ball threw us off a bit," he told The Flyer. "After we adapted the D seemed to let up a bit but the switches still caused us to be stagnant off ball." When asked about what his team could have done better throughout the contest he stated, "We could have done a better job of rebounding, especially in the third quarter. Also, we needed to make adjustments to break the press. Too many times did we force ourselves into bad positions or make careless passes." The Crusaders will get another chance at the Golden Eagles when they face them in their second from last game of the year, in their building.
Going Forward
The Golden Eagles look to continue their hot streak throughout the rest of the year, and there's no doubt in my mind that they will do just that. Coach Domnick will of course continue to heavily lean on his greatly talented group of seniors headed by Brenyn St. Vrain, Luke Larkin, and Tanner Mans, but he will also continue to look for huge contributions from Carter Reid, Enrique Lankford, and Alex Littlejohn. This team is loaded and being touted by various other sources as being as good, if not better than, the 2018 title team. As for the Kapaun Crusaders they will look to bounce back after this hard loss. But thanks to their still great record, they are still in firm position to go a long ways in the Championship tournament.
Quotes from the Dom:
What was the biggest factor in the team coming away victorious against the Kapaun Crusaders Friday night?
"We created a lot of turnovers against them that helped quite a bit, because it gives our offense more possessions," BC coach Mike Domnick said. "That's a great team that we played, but I think we played pretty decent defense. I mean, we gave up the most points that we had all year, but we still only gave up 55 and we scored pretty well."
Coach Domnick on the biggest factor for the team's fast start to start their season:
"We have a lot of kids dialed in. They have been dialed in since last season when we lost kind of a heart breaker in the semifinal game at state and we have a lot of basketball-first kids, so all off-season they have been working hard and they have been looking forward to and anticipating this year. So you add experience, as we have played in a lot of close games the last two and a half years, basketball-first kids and the fact that we are all dialed in, it makes a pretty tough team to beat."
From a fan's perspective, it seems like Tanner Mans and Brenyn St. Vrain have taken on the leadership role of the team. Is there anything that sticks out to you about their leadership ability?
"Tanner took it on this summer and Brenyn's kind of a quiet leader, he doesn't do any like rah-rah stuff, but he and Carter do such a great job of running our offense. The fact that they know when to cut and how to cut and how to get open, they're always open for shots. So it is fun to watch them move without the ball because that is how they get themselves open. Tanner has just taken it to a whole other level. He is as great of a leader as I have had. Luke Evans has been one of the best I have ever had, but Tanner is right up there with him. Because this is his team, this is his senior year and this is his time."