THE HOOPS HOLY WAR: BC (8-0) vs. Kapaun (7-1)
Carter Reid: "We are just worried about one thing: winning."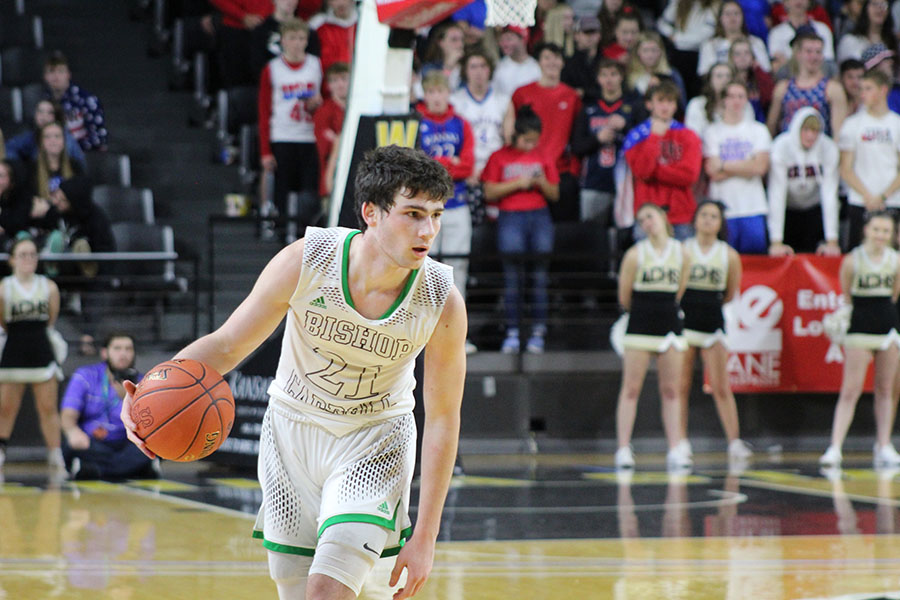 Bishop Carroll vs Kapaun Basketball Preview
So Far:
Bishop Carroll: The Golden Eagles (Ranked 2nd by MaxPreps) have had a tremendous start to their season. They currently stand at 8-0 and are showing no signs of slowing down. They have been giving it their all on both ends and that hard work has been paying off. The boys have not scored less than 60 points in a game and they have not given up more than 50.
Against Kapaun, Coach Domnick and his team will have their hands full in attempting to contain Crusaders star forward Blake Danitschek. Danitschek has put up a total of 106 points so far this season, and is appearing to be the heart and soul of the Crusader team. This year's team of Golden Eagles are blessed with an abundant amount of junior talent, specifically the trio of Carter Reid, Enrique Lankford, and Alex Littlejohn. When describing this trio, Reid stated, "Us three have always known how to play with each other. Our chemistry on and off the court just makes it that much better. When we play, we get the job done, of course, but most importantly, we go out there and have fun. We know that if we go out there and play our game, good things will come. We aren't just worried about scoring the most, or being LeBron out there, we are just worried about one thing: winning."
Kapaun Crusaders: Like the Golden Eagles, the Crusaders are having a great season. They currently stand at 7-1 with their only loss being by two points against Andover (Ranked 1st by MaxPreps). When asked about his team's early success, leading scorer Blake Danitschek stated, "Compared to last year, we now have better leadership and more guys that are buying into the process of becoming a better team. We compete hard in practice and really go after each other, which has in turn translated to the games." This will be the biggest test that the Crusaders have faced all season with the unique challenge of trying to contain star Carroll guard Tanner Mans. The Crusaders pride themselves on being fundamentally sound on defense and consistently make their opponents work for everything that they get.
Key Matchup:
Tanner Mans v. Blake Danitschek
The key storyline for Friday's game is the matchup between KMC forward Blake Danitschek and BC guard Tanner Mans. Each of these players are beginning to assert themselves as the heart and soul of their teams. Danitschek said, "The Work we put in over the summer and fall would have to be the biggest contributor to our success. We also both trust our teammates and just let the game come to us." As of Monday, Danitschek had put up a total of 106 points on the season and Tanner is just behind him with a total of 104. Tanner Mans seems to be finding his footing once again, putting up over 19 points in four of his last five games. When asked about this recent hot streak Mans stated, "My mindset has changed and I have settled down and I've gotten into a rhythm and don't look for me to get out of it any time soon."
Predictions:
Expect for this game to be a close one throughout. The Crusaders will look to lean on Blake Danitschek to make big plays for them throughout the night. But I do not see that being enough to stop the extremely hot, undefeated Golden Eagles. Coach Domnick will be looking to lean on not only seniors Tanner Mans and Brenyn St. Vrain, but also their young trio to seal the deal at the end of the night.
Final Score: BC: 62 > KC: 54
Q and A with the Eagles:
Bishop Carroll guard Brenyn St. Vrain on what it will take to continue to be a difference maker on the stat sheet:
"I need to keep being aggressive and keep looking for my shot, and I always need to be ready to shoot because if I'm open my teammates will find me."
Brenyn St. Vrain on what the Golden Eagles will need to do to contain Blake Danitschek:
"We just need to keep playing hard on defense like we have been all year and don't give him any space to get a shot off."
Junior Carter Reid on his style of play:
"My style of play is unique, you can say. I have my own little swagger and I can get pretty into it on the court. I mean who wouldn't? My team gives me crap and laughs sometimes and that's OK; they do it because they love me, but when I hit a three I act like I'm shooting a bow and arrow. I do it to get everyone going and to get laughs and the energy up. I'm vocal on the court and never take a play off. I love the game, I always do my best and give it all I got. It's bigger than basketball, too. I do it for my teammates and my loved ones. I hit threes, and drive as well, but shooting the three is my strong suit. I'm a defender too. I've really tried to improve on that as well as I can. I might not be the team leader, but I try to contribute in that way however I can."