Carroll football stops West; showdown with powerful Derby Panthers next
Golden Eagles handle West 34-7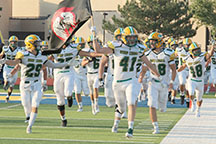 Overview:
After feasting on the Heights Falcons just a week before, the Golden Eagles (Ranked 5th by MaxPreps) were able to continue their momentum and put up a very solid and impressive performance against the West Pioneers (Ranked 25th by MaxPreps) on Friday night. The Golden Eagles feasted on the Pioneers 34-7
Golden Eagles Defense:
The Golden Eagles defense, led by defensive coordinator Jim Nance, put up a tremendous showing against the West Pioneers, only allowing nine points over the course of the game. The defense was able to hold West to no points in the first half. They were also able to consistently get pressure on the quarterback, eventually leading to a crucial interception by Cassius Williams (QB) in the second quarter. This would help the Eagles continue to gain momentum going into half. The defense allowed one rushing touchdown against the Pioneers early in the second half, but did not allow another score through the remainder of the game.
Golden Eagles Offense:
The Golden Eagles offense put on a solid performance against West. The offense had a bit of a difficult time getting the ball moving in the first quarter, but were able to find holes in the Pioneers run defense in the second quarter, resulting in the Golden Eagles running in two touchdowns before half. The offense, led by QB Aiden Niedens, proceeded to never look back throughout the second half, scoring an additional 20 points off of three rushing touchdowns in the second half. The focal point of the offense, Hunter Trail (RB), finished the day with 117 yards and four touchdowns on 17 carries. Dalton Nichols also punched in a touchdown on the ground.
Wichita West:
The Pioneers had a tough outing against the Golden Eagles, only being able to muster one touchdown on the ground against Carroll's stout defense. The Pioneers also had one turnover in the second quarter, leading to a barrage of points by the Golden Eagles offense throughout the remainder of the game.
Going Forward:
The Golden Eagles have perhaps their most difficult test this year on Friday against Derby (1st by Max Preps) this week. They will need to be prepared for the high powered offense that the Derby Panthers present week-in and week-out. The Golden Eagles must keep the Panthers offense off the field and capitalize on the mistakes that Derby will make; if they do this they should be able to bring back a win under the Friday Night Lights.