BREAKING: New prom coordinators selected
Mattie Lane, Grace Ebberwein chosen to plan the big dance next year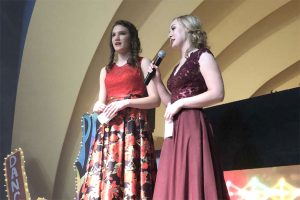 The 2019 prom coordinators are Mattie Lane and Grace Ebberwein. They were chosen by prom sponsors Abby Johnsen and Laurie Briggs from 18 candidates.
"These girls displayed great qualities of organization, creativity, leadership, and were already articulating a plan for exactly how they wanted prom to go next year," Ms. Johnsen said.
Johnsen says the girls also had great teacher recommendations and that helped influence their decision.
More students applied for prom coordinator this year than there ever before, and Johnsen said it was a tough decision because each student displayed different beneficial qualities. The candidates who didn't receive the position will still be given the opportunity to be part of the prom team that assists the coordinators.
Writer's note: As the 2018 prom coordinator, the best advice I can give to the new coordinators is don't sweat the little things and stay on the same page as far as the big picture goes. You might disagree on little details and when that happens, get Laurie Brigg's opinion because she's usually right.