Cross country sweeps City League meet despite delay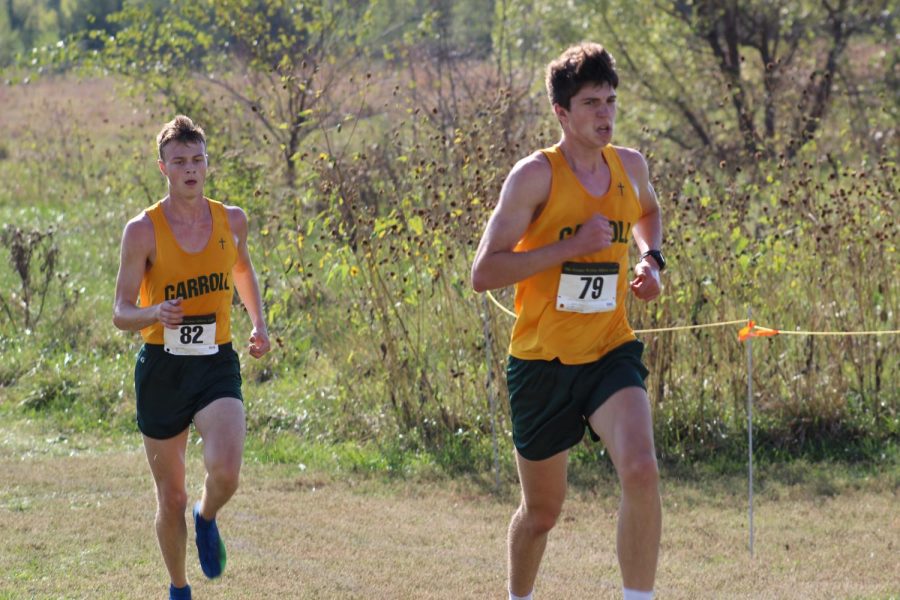 Hang on for a minute...we're trying to find some more stories you might like.
Athletes looked to the skies as their buses bumped along the curvy, cracked, pot-hole filled road into the Cessna Activity Center last Saturday morning. They saw lightning in the distance, and were ready for rain with extra socks and shoes.
Then, soon before the varsity girls' race was supposed to start at 9:30, competitors were herded into the Activity Center gym because of severe weather. There was some confusion and anger among coaches and athletes about why the races were being pushed back because there was no rain and the lightning was moving away. Luckily, the Wichita cross country teams were only cooped up in the gym for about half an hour, which they spent talking, stretching, and napping.
When the competition finally started, Carroll's varsity and JV men's and women's teams took first in all four races, and the JV women had a perfect score.
"The delay was the hardest part for athletes to overcome," said women's track and cross country coach Ran Neilsen.
Athletes' uncertainty about the weather was a challenge. It was chilly and drizzly in the morning when the teams boarded their buses, and by the time races started at 10:05 it was warming up and getting humid.
"It was really humid, we handled it well though," said varsity runner Jason Irwin, who finished fourth. He also said that the men's team came and accomplished their goal.
For JV runner McKenna Daugherty, the hardest obstacle to overcome was herself.
"Dealing with the voice inside my head that said I couldn't do it, so having to push through that," she said. She added that what got her through was her teammate, varsity runner Kindel Nordhus, yelling that she could do it.
At the end of the meet, the skies were blue and Carroll claimed another City League title.