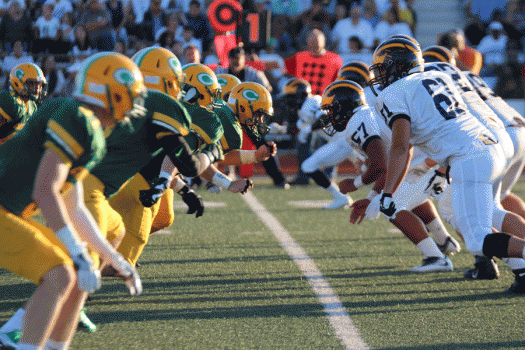 There's a storm brewing.
That storm is football, ladies and gentleman! And, boy, do we have a good one to start off the season: Northwest. Complete with arguably the fastest-paced team in the entire state of Kansas, the Grizzlies and Golden Eagles look to have a star studded clash on Thursday night. According to Taylor Eldridge of the "Wichita Eagle," both teams have a combined seven players, plus two more honorable mentions, in his respective Top 10 positional rankings.
Coach's Take
When asked about how the team has been preparing for Northwest's up tempo offense, first-year head coach Trail said, "We've been preparing by running two huddles at our defense, basically one offense will be running a play and the other offense will be getting the play and then they will switch after the play."
Prediction
Expect a very entertaining season opener on both sides of the ball, but watch to see how the Carroll defense, led by seniors Isaiah Carter and Riggs Robben, try and put a stop to top receiver Jaxson Reynolds and the rest of the potent Northwest offense. If the Eagles can contain the Northwest offense, then all they will have to worry about is containing Marcus Hicks on the defensive line or combatting that by throwing to safety blankets like Tom Helten or Clay Cundiff. Overall, this will probably be a very good game. I'm just not convinced that our defense will be able to keep up with Northwest all game. But knowing the gritty way that the Eagles play football, BC will likely capitalize on an unforced error and win by a safety or something like that. My final score: BC 58, Northwest 52.