Community System Breakdown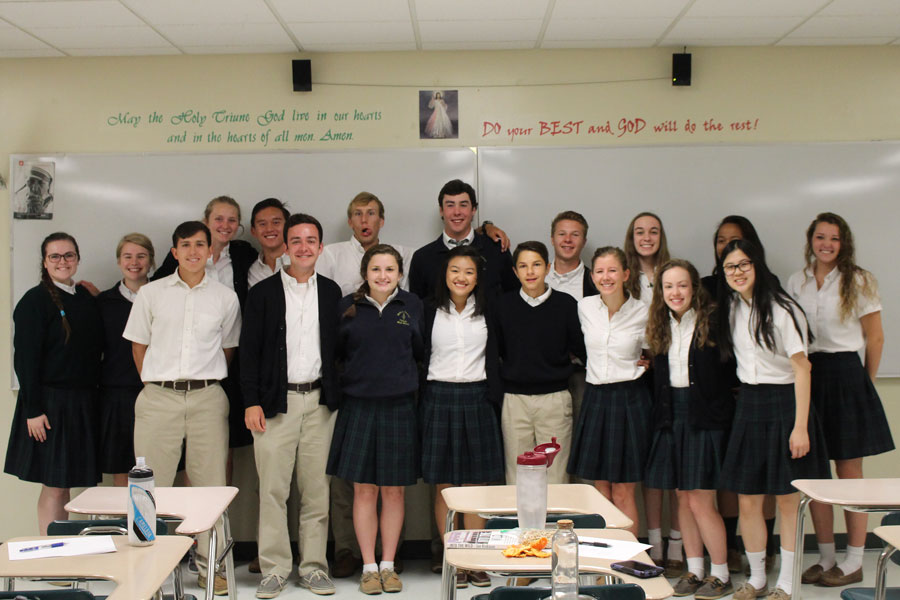 Alli Gregg and Anna Schmidt
May 22, 2017
Mr. Schuckman and next year's panel of community Deans met on Wednesday, May 17 and decided on a schedule to accommodate weekly 40 minute House Times, class masses, and community masses.
The House Time schedule sets aside 40 minutes every Monday for houses to meet and grow in community with one another. Students will partake in communal activities such as outdoor games, team building activities, service to others, faith building, and more. The Weekly Mass Schedules will be on Tuesday and Thursday, as Bishop Carroll has traditionally had them. Both days set aside 15 minutes for house time and 30 minutes for mass. On Tuesdays there will be class mass, and on Thursdays there will be community mass. The fifteen minutes that houses are given during this schedule will consist of brief overviews of the week and short team building activities.
The Community Leadership Team and teacher committee has high hopes regarding this new schedule that emphasizes community. Student body president Julia Howey says, "I want this to make Bishop Carroll multifaceted and dynamic so that every student feels comfortable pursuing his or her interests."
The overall vision of this schedule, as Mr. Schuckman put it, is to give students a better understanding of what it means to "serve God, and serve others." By instilling more strongly the values of community and service, the house schedule seems that it will do just that.
First CLT Meeting
All 16 Community Coordinators, school president Julia Howey, and vice president Chloe Charles met for the very first "CLT" meeting on Tuesday to discuss the specific role of the coordinators, announce coordinator and dean pairs, and consider saint patrons for each community.
The leadership group, now called the Community Leadership Team, met with Miss Johnsen and Mr. Schuckman to discuss their new role within the school.
Mr. Schuckman emphasized that the goal of the new system is to get people involved.
"You guys aren't going to be just doers," Schuckman told the community coordinators. "Don't think you're going to just coordinate, it's a 'we' process."
Each coordinator was given a "blueprint" for the events of next year, and are currently thinking about Saints that could be used to name the communities. The next CLT meeting will be on May 30 to further plan events, and share ideas for future ones.
Mr. Schuckman also announced that leadership training opportunities for all students would be available during the summer, led by himself and Mrs. Laurie Briggs.
"We want more people doing more things," said Schuckman.