Howey Ready to Take over Class President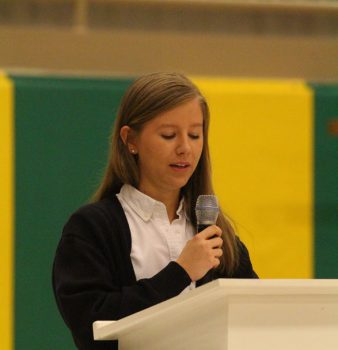 Julia Howey was as humble as ever after she was elected student body president.
"I was really surprised but also really, really excited," said Howey.
As Howey steps into her new position, she is immediately faced with a school system switch: The community system of next year. However, Howey has already taken the necessary precautions to prepare for what will surely be quite the adjustment.
"Within the community, it will be a little different so we brainstormed a couple ideas for meetings, events, and just how it will work in general," said Howey.
Howey has been involved with the STUCO since her freshman year. She is well equipped for the position that she will be faced with in the upcoming year. What is certain is her eagerness to fulfill this position.
"I never was a class president. I have just been a service officer and religious officer and as a president of the whole school, it is a little more communication, and innovation," said Howey. "You have to come up with more changes and work more with administration. This is something I have wanted to do for the past couple of years and I am really excited to be a leader in our school next year."