K-State Band Festival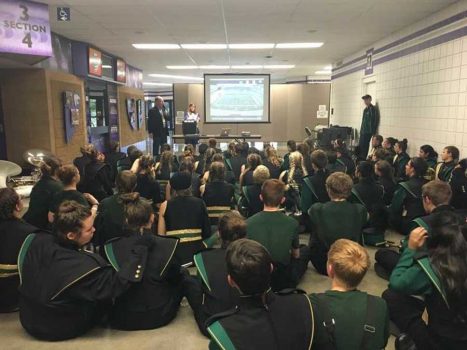 Alli Gregg
October 24, 2016
The Bishop Carroll Screamin' Eagles Music Core received a 2 "Excellent" rating overall at
Manhattan, Kansas this Saturday while participating in a marching band clinic and competing in the Central States Marching Festival.
All day Saturday, the Bill Snyder Family Stadium hosted the Central States Marching Festival. This annual festival consists of nearly 50 bands from all over Kansas who come to perform and be judged in five categories. This year, the festival also featured the Boston Brass, a famous quintet from Massachusetts.
The schedule for the day was simple. Carroll would arrive and unload, head to the practice field for a clinic, eat, get dressed, perform, head straight to view their recorded performance and receive critiques, head back to the stadium to watch other bands perform, watch the K-State "Pride" marching band perform, and finally receive their personal, overall rating for their band.
The Screamin' Eagles arrived at the KSU campus at around 9:30 a.m. They performed their show for the K-State band members, and then received critiques and suggestions for improvement for future performances. Carroll band members enjoyed speaking with people who had taken their hobby to the next level.
Senior Chris Gregg was thankful for the time he and the band were able to spend with the K-State Marching Pride. "Working with the K-State Band was very inspirational, and gave me something to look forward to if I were to attend K-State," he said.
The band still had a few hours before their performance, and they spent this getting dressed, listening to other bands play, and preparing for their own show. At 2:15, the band lined up and waited for the call to take the field.
After around 15 minutes, they were marching out of the Bill Snyder Stadium to one of Carroll's favorite drum cadences.
Carroll felt that they performed their show, "Passion," well, and drum major Ryan Littlejohn was very proud of what he saw.
"We had a lot of really strong sections," said Littlejohn. "As a drum major, my point of view is different, because I get to see something that the band doesn't. I also get to hear the music first, before it hits the audience."
Finally, after a busy day of being in the spotlight, the members of the Bishop Carroll Band were able to relax in the stands and experience other marching shows. They also had the privilege of watching the Boston Brass (with whom they were also able to receive a clinic from) and the K-State marching band perform.
The band also received their overall rating before heading back to Wichita. They were given a 2, or "Excellent" overall, with a 1 or "Superior" rating in the "General effect" and "Music" categories.
Bishop Carroll Band director Mr. Christopher Dean was very proud of his band as well saying, "I definitely think it was their best performance of that show so far."
Overall, the band enjoyed their trip to Manhattan, although it was a long one, and are excited to return next year.
"We got back just before 2 a.m." said Mr. Dean. "The trip ended up being 18 and a half hours altogether, but it was a fun time for us all."