Meet the 2016-2017 Flyer Editors!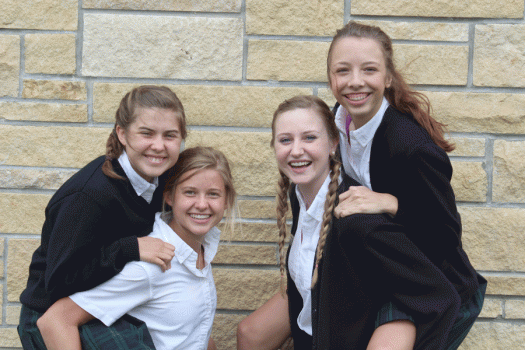 From left to right:
Mary Ebberwein – Editor; I enjoy running cross country and track for BC. In my non-existent free time, I look forward to star gazing, riding in old trucks blaring country music, and swing dancing. And if you ever want to make me super happy, pick me some wild flowers!
Grace Buessing – Editor; I love Jesus, laughing, art, running, music, small towns, and pigs. Between 4-H, CYM, volleyball, track, Christmas Caroling Club, Freshmen retreat team, STUCO, and family, I somehow make time for CrossFit, painting, and watching Sweet Home Alabama. Peace and blessings, bud!
Katie Gross – Photo Editor; I like to take pictures (obviously), play tennis, listen to 80s music, and watch football. I can't wait to see what's in store for the 2016-17 Flyer. We have such a great staff, and some pretty cool editors!
Drew Davis – Social Media Editor; I'm a fan of long walks on the beach, Harry Potter, and classic rock. I'm beyond excited to keep working on the Flyer, we've got a great year ahead of us!