Preview: The Flyer's Annual Senior Edition
Hang on for a minute...we're trying to find some more stories you might like.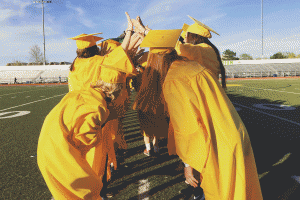 This Friday, May 20, marks the release of the final Flyer issue for the 2015-2016 school year. This senior edition of Bishop Carroll's newspaper is always highly anticipated and beloved by the student body, and this year's publication will not differ. Here are several pages to look for while flipping through your copy of the Flyer. The majority of this issue is dedicated to the Class of 2016, with fan-favorite features such as 'Most Likely to Be' and 'Senior Spotlight.' This year, the Flyer staff has also included a few new senior-themed pages, including 'Bishop Carroll Has Taught Me' which gave seniors an opportunity to share important lessons they've learned from their time here at Bishop Carroll. Aside from the senior pages, this paper contains coverage of several students in the form of features, as well as photo spreads which include the best unseen photographs taken by Flyer staffers and Photo Journalism students. In sum, this edition of the Flyer combines fresh, new ideas and traditional, reliable elements to create a newspaper that will knock your uniform-approved socks off.