Flyer Issue Preview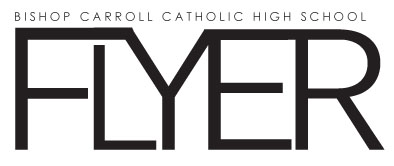 The first 40-page issue in the history of the Flyer comes out tomorrow. Here's what a few staffers are excited for you to read:
Mary Ebberwein & Grace Buessing: We conducted a poll about how BC students feel at school. We are excited for you to see the results and all of the hilarious responses describing BC students' most unique emotions.
Wyatt Iseman, Clare Morgan and Monica Martin: The Faith Section was greatly increased in size, we had almost 6 pages! With such a large issue, we were given greater freedom for creativity to make an awesome Faith Section of the Flyer. The improved section offers students in depth news and resources to help them on the road to Christ. Enjoy!
Kaylor Nordhus: My main page consists of highlighting how Carroll's grading scale is stricter than most high schools, and how that has affected students and their G.P.A.'s, in terms of college scholarships, as well. I am excited to have the facts and opinions about Carroll's grading scale and G.P.A. in one place! Happy reading!
Dylan Albers: My pages consist of stories explaining how tough Carroll athletes can be. These particular winter athletes show exceptional strength and passion and exemplify toughness, both physical and mental. They explain the most important things in being tough and what it means to be tough, but you need to read to find out who they are and what they say.
Elle Clouse: I have compiled four pages that radiate Christmas Cheer. You'll see columns and pictures and snowflakes galore. Keep an eye out for our top 5 ways to spread Christmas Cheer. Enjoy!