Girls Golf Wins City League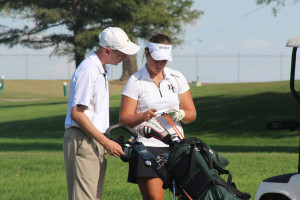 Story by Emily Demel
1999 was a year when "Sixth Sense" was the No. 1 movie, "Everybody Loves Raymond" was the top TV show, and "Livin La Vida Loca" was the song always on the radio. It was a year many of the students at Bishop Carroll were born.
It was also the last year the Bishop Carroll girl's golf team had won City League… until yesterday when the Eagles beat rival Kapaun 355 to 363.
The Bishop Carroll girls golf team headed to Tex Consolver yesterday — nervous, but ready to take the title they had been fighting for against Kapaun all season. Both teams had two victories over the other, making this tournament a crucial win for Carroll.
The Kapaun team was an admirable opponent with top golfers Emma Whitaker and Erin Johnston, but Carroll challenged them well with second team all-city player Cami Tasset, and first team all-city players Abby Sauber, Shelbie Stuckey and Sydney Lashley.
The Carroll girls had all had their ups and downs over the season. Their biggest struggle being consistency, but they buckled down and played to their strengths, shutting down Kapaun and sealing their victory.
Shelbie Stuckey, senior, placed third at the tournament with a score of 90. Of the team she said, "We finally put all the pieces of the puzzle together."
Abby Sauber, senior, placed second with a score of 77. She has been a crucial player for the team all season. She said, "We are one step closer to our ultimate goal of winning state. If we keeping working hard and playing the way we know how we should have a good chance at a state title."
Other vital players were Sydney Lashley, junior, who placed fifth with a score of 93 and Cami Tasset, senior, who placed sixth with a score of 95.
Mr. Mark Berger, the girls coach, said of the victory, "I am very happy for the team. The senior girls have all worked hard for four years. They played the way they needed to."
The girls have set some very high standards going into regionals next Monday and hopefully state, but they are up for the challenge.
Senior Cami Tasset said, "I think we are ready to finally claim the state title we have been reaching for all season and in seasons past."