Flyer blog: Soccer chasing CL championship
By Dylan Albers, Staff Writer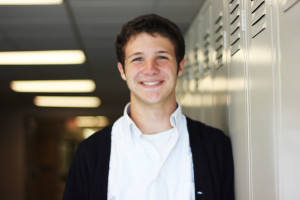 The boys varsity soccer team has done an exceptional job this year in staying ahead of the competition. As of today, Bishop Carroll is ranked No. 1 in City League.
Bishop Carroll has only won City League for boys soccer once in history, and that feat was a co-championship with Kapaun Mt. Carmel in 2012. This year, we have the opportunity to take the title all by ourselves. Carroll is currently undefeated in the CL with only one tie.
Last year, BC soccer lost to East 5-1. East was the defending champions of the city league title, and this year Carroll emerged victorious with a 1-0 win. They also beat scoring powerhouse North 2-1, and Northwest 2-1.
Carroll's defensive line is one of, if not the best, in the league. They have only allowed seven goals to be scored against them, and the team with the next lowest goals against is West, with 14. The offense is currently finding their way and getting much better at scoring with each game.
This year's team is one of the best Carroll has seen. The past two years, the boys team has made it to state, and this year's team has their goal in the same place.
BC plays Thursday at Heights.