BC vs. NW Preview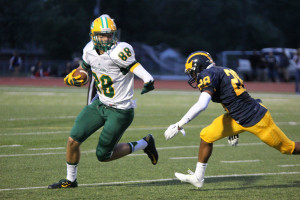 The Flyer's Kaylor Nordhus sat down with football coach Alan Schuckman to talk about the season-opening football game tonight.
What is your team's strength?
"Our strength is a lot of inexperience. (That can be a strength.) You know, guys have been waiting for their opportunity to play, and have been in the program for four years, and now it's their opportunity. The work ethic, the passion this year has been outstanding, their summer commitment has been outstanding, so that's definitely a strength."
How has new quarterback Jake Allen been looking?
"Jake is just a quarterback in a long line of successful quarterbacks in our program. You know, we expect him to do the same things that the guys before him has done. You've got to have commitment, and he's definitely had that so we're excited to see how he does."
How hard will it be to replace Denzel Goolsby?
"I don't know if you replace a guy like that. Not just what he did on the field, but what he did off the field-his leadership. It's a new team, a new opportunity for new guys. Hopefully they learned from Denzel and can step in. No one guy is going to replace him. It's going to take a whole team.
How do you stop NW quarterback Kevin Folsom?
"We've just gotta contain him, we can't let him get loose..and put pressure on him when he throws the ball, and when he tucks it to run, we've gotta make sure we get 11 guys to the football, because again, he's a great player and can make things happen."
What else concerns you about NW?
"Northwest could be one of the most athletic teams we see all year. Their athleticism is a concern. I'm excited that we're playing at home, in front of our crowd; that definitely helps us. But they're a good football team."