Softball team celebrates 'amazing' season on emotional senior night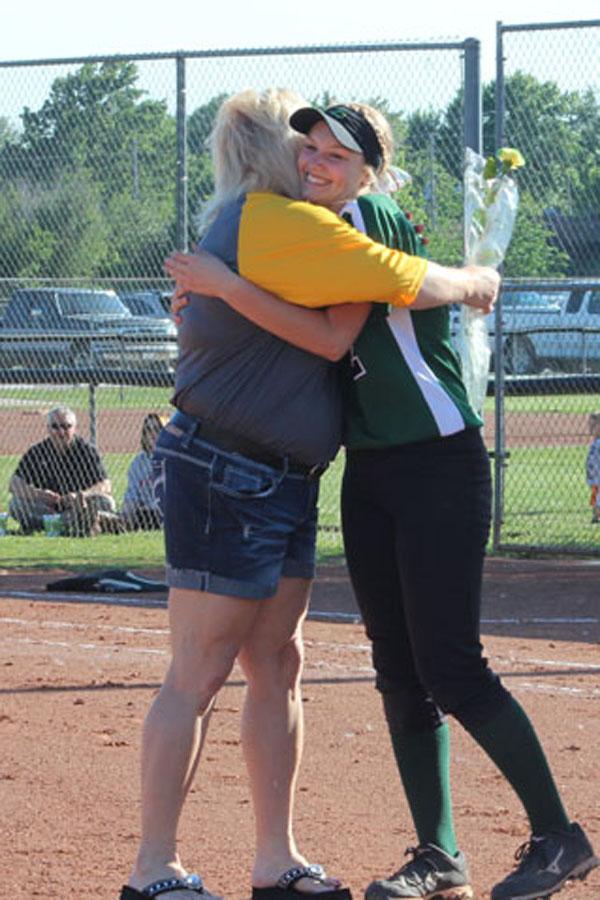 by Jacy Holbrook, staff writer
Emotions were high as the Bishop Carroll varsity softball team said a bittersweet goodbye to their graduating seniors on Tuesday night.
Among this group are Brittany Finney, Lauren Buchanan, Leisle Hoffman, and Megan Sigg, along with the team's two faithful managers, Luke Pfeifer and Simon Nguyen. As the smiling graduates lined up to be escorted along the field by their parents in between games of a doubleheader sweep of Heights, it was clear that they would be greatly missed by the rest of their teammates.
One by one, the seniors received gift baskets from the junior, sophomore, and freshman members of the team. They received gift cards, pictures, posters, and candy, along with many handwritten notes and other sentimental goodies.
"Senior night is great because we get the opportunity to acknowledge our seniors for their great work at Bishop Carroll by giving them homemade gift baskets that we put together as a team," said sophomore softball player Meghan Gutierrez.
As far as 'great work at Bishop Carroll' goes, the senior softball players have definitely put in their share, leading the Bishop Carroll varsity softball team to a first place title in City League. This season alone, the team has outscored opponents 270-to-10. They are also ranked No. 9 in the nation overall, and No. 1 in the nation in team batting average.
"This season has been amazing; totally unlike any other season. Everyone works so well together and we can all trust each other to have our individual jobs done when we play, so that the whole team can thrive!" said graduating senior Brittany Finney.
In all, senior night was filled with sentimentality for the past, excitement for the future, and many, many hugs. The inseparable bond between every member of the team was evident. Proud parents made their appearances and it was easy to see the glimmer of pride and joy in their eyes as they walked down the field with their daughters, arm in arm.
"It was a memorable night in the sense of emotional impact that it had on Lauren," said Terri Buchanan, mother of senior Lauren Buchanan. "Seeing her become emotional really touched my heart. Her softball team is like family to her, and I know she's made many lifelong friends through this program."